Increasing global attention is being paid towards CCUS technology
The International Energy Agency's Sustainable Development Scenario (SDS), with the premise that we will achieve the 2°C target in the Paris Agreement, assumes that CCUS will account for about 15% of emission reductions in 2070, and CCUS is considered an indispensable technology for achieving net zero emissions in the future (Figure 1).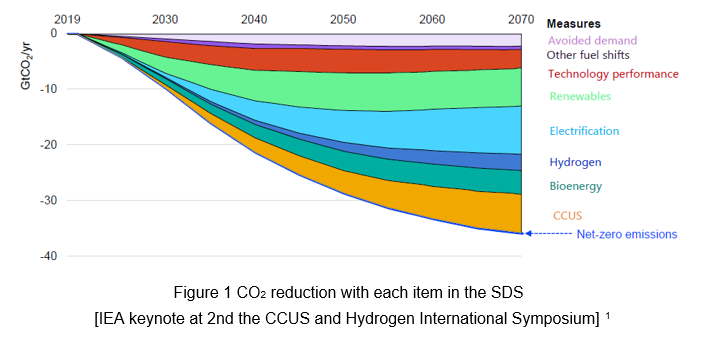 One reason for the emphasis on CCUS is that there are unique values in CCUS that are difficult to achieve it with other CO2 reduction methods. Specifically, according to the IEA, there are mainly four strategic values of CCUS:
Tackling emissions from existing energy assets

CCUS is one of the few technologies that can remove CO2 emissions from thermal power plants.

Solution for sectors with hard-to-abate emissions

The industrial sectors such as cement, iron and steel, chemicals, or long-distance transport are said to be the most difficult to reduce CO2 emissions due to the nature of the their processes. In this context, CCS is currently one of the most cost-effective options.

Platform for low-carbon hydrogen production

Hydrogen (green hydrogen) is needed to be produced by water electrolysis with electricity derived from renewable energy. Depending on the cost of renewable energy, blue hydrogen is considered cost-competitive for the time being.

Removing carbon from the atmosphere

In case emissions remain in sectors where CO2 reduction is difficult to achieve for zero emissions, they need to be compensated by CDR. Biomass power generation with CCS (BECCS: bio-energy and CCS) and DAC+CCS (DACCS) are positioned as important options as CDR technologies in the long term.²
Each country aims to increase the number of CCS projects in the future due to the factors above. CCS projects in operation are 38 Mtpa in scale currently, but they are expected to reach to 650 Mtpa (around 17 times compared to present) by 2030 and 9,533 Mtpa (around 250 times compared to present) by 2070 (Figure 2).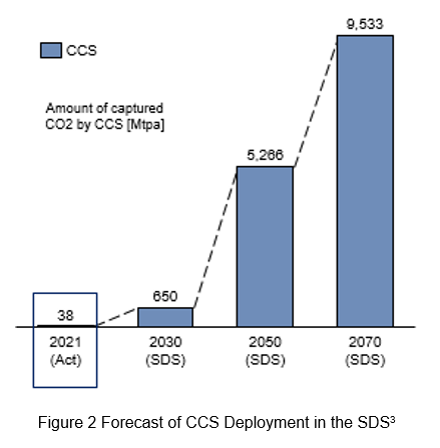 Most of the current CCS development projects in operation are mainly in Europe and the U.S., whereas in Southeast Asia region, there are no commercialized CCS projects that are in operation phase at present.
Major reason for this situation is that the legal system related to CCS is still underdeveloped in Southeast Asia, while Europe and the U.S. have incentivized initiatives such as the Emission Trading System and Tax Credit (45Q). As a result, it is difficult for project developers to invest in PJ development because they have no prospect of its profitability at this point.
High potential demand and potential supply capacity of CCUS in ASEAN are gradually attracting more attentions from investors
While the issues for the commercialization of CCS in Southeast Asia have been indicated above, the CCS potential in Southeast Asia, especially in Indonesia and Malaysia, is considered to be very high. Generally, the size of the storage potential is considered important when assessing the potential of each country for the development of CCS projects. As shown in the figure below, there are many countries in Southeast Asia that have huge storage potential (Figure 3).
For example, in Indonesia, there are old oil fields and deep saline aquifers near Java where CO2 emission sources are concentrated. Also, there are depleted oil fields and a number of gas fields.
Japanese government and companies have started to promote the development of CCS projects in Southeast Asia against this high potential. For example, in the Gundhi CCS Project in Indonesia, JGC HOLDINGS CORPORATION and Electric Power Development Co., Ltd. are collaborating with Pertamina and the Bandung Institute of Technology to develop the first large-scale CCS project in ASEAN, and the number of similar projects is expected to increase in the future.
Collaboration with the local governmental entities is the key to penetrate ASEAN
Currently, most of the CCUS projects in Southeast Asia are in the prefeasibility or feasibility study stage and are just starting to explore the project developments in the area. By entering the early CCUS market, it is highly likely that the new entrants will be able to benefit from the expected future expansion of the market itself in the area. An analysis of actual CCS development projects in Southeast Asia reveals that most of them are joint demonstrations by state-owned O&G companies (Pertamina in Indonesia and Petronas in Malaysia) and non-local companies (Japanese trading companies, O&G companies, and European and U.S. O&G companies). This may be due to the fact that the cooperation of the local government is indispensable in securing reservoir sites and conducting field surveys for project development, and also because the capital cost of CCS is so large that some type of government subsidy is indispensable for improving profitability of the project. Therefore, relationships with state-owned O&G players are the key to the market entry in the region, and it may be necessary to secure government connections or partner with other companies that have connections with the government to enter the market.
Recently, IGPI Singapore has supported multiple clients with regards to CCUS Projects
Against the backdrop of growing interest in CCUS as mentioned above, IGPI Singapore has been supporting multiple clients with their global CCUS market entry studies, and has extensive knowledge in this area.
To find out more about how IGPI can provide Japanese consulting support for business in Singapore and the region, browse through our insight articles or get in contact with us.
****************************************************************************************************
[1] IEA (2020)
[2] IEA (2020)
[3] IEA (2022)
[4] Global CCS Institute (2019)
****************************************************************************************************
About the author
Mr. Tatsushi Sasakura is a Senior Manager of IGPI Singapore. Tatsushi has worked in Mizuho Bank and Deloitte Tohmatsu Financial Advisory (DTFA) in Japan. At DTFA, he belonged to the Corporate Strategy team specializing in business strategy planning, M&A advisory, and business due diligence. He was also engaged in crisis management, supporting clients to tackle emergencies. He has profound experience in the energy, consumer, and financial industries. He covered a wide range of clients including Private Equity Funds and large-sized companies. Tatsushi graduated from Waseda University with a B.A. in International Political Science and Economy.
About IGPI
Industrial Growth Platform Inc. (IGPI) is a premier Japanese business consulting firm with presence and coverage across Asian markets. IGPI was established by former members of Industrial Revitalization Corporation of Japan (IRCJ) in 2007. IRCJ, a US $100 billion Japanese sovereign wealth fund, is known as one of the most successful turn-around fund supported by the Japanese government.
In 2017, IGPI collaborated with Japan Bank for International Cooperation (JBIC) to form JBIC IG, providing investment advisory services and supporting overseas investment. In 2019, JBIC along with BaltCap has jointly established Nordic Ninja, a €100 million venture capital fund to focus on deep tech sectors such as autonomous mobility, digital health, AR/VR/MR, artificial intelligence, robotics and IoT in the Nordic and Baltic region. In 2019, IGPI established IGPI Technology to focus in the area of science and technology. The company invests in technological ventures and provides hands-on management support. The company also provides business development support towards commercialization and monetization of technologies.
* This material is intended merely for reference purposes based on our experience and is not intended to be comprehensive and does not constitute as advice. Information contained in this material has been obtained from sources believed to be reliable, but IGPI does not represent or warrant the quality, completeness and accuracy of such information. All rights reserved by IGPI.